Hello, friends! It's the end of summer, and we're still Cooking at Home with Chef Paul and Miette Culinary Studio. Unbelievable, right?
Today we have a super simple yet smashing corn and tomato salad, it's the best time to be eating both of these and the Greenmarket is awash with more glorious produce than at any other time of year.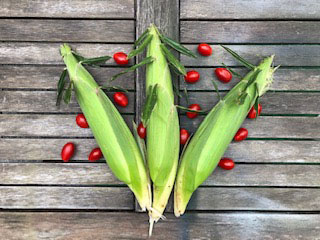 Corn and Cherry Tomato Salad
Fresh Corn and Cherry Tomato Salad
Serves 4
Ingredients
5 ears of corn, shucked
1 small red onion, diced thin
3 tbs red wine vinegar
3 tbs extra virgin olive oil
1/2 tsp kosher salt
1/2 tsp ground black pepper
1/2 cup basil, sliced thin
10-12 cherry tomatoes, cut in half 
Feta cheese, crumbled (optional)
Preparation
In a large pot of boiling salted water, cook corn for 4 minutes.
Drain and immerse the corn in cold water to stop the cooking process. 
When corn is cooked, cut the kernels off the cob (tip: Stand the cob on top of a clean dishtowel and cut the kernels off from top to bottom. This will prevent the corn from flying everywhere).
Toss the kernels in a large bowl with the red onions, red wine vinegar, olive oil, salt and pepper, chopped basil and cherry tomatoes.
Garnish with crumbled feta cheese, if using, and serve at room temperature (or cold, if that's your happy place).