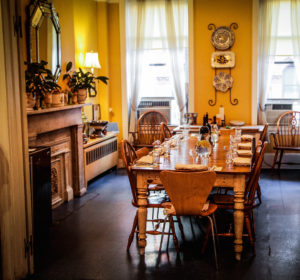 Miette means "little crumb" in French. The name was inspired by the restaurant where the cooking classes began, Tartine ("slice of bread") in the West Village. Miette opened in 2001 and has been offering cooking classes in NYC since.
Paul Vandewoude – Head Chef and Owner has been a professional chef for 35 years. He was born and educated in Belgium and started his cooking career at the tender age of 13 by becoming an apprentice to an established chef in Belgium.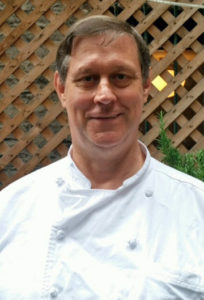 He eventually received his degree in culinary arts from the Durbuy Cooking School in Durbuy, Belgium. After his military service (as chef on a battleship that traveled throughout the Middle East: now that's cooking in small quarters!) he worked in several top restaurants in his native country. He came to New York to assist with the opening of a Belgian restaurant, and stayed on to become executive chef at the original Le Zinc Restaurant in Tribeca, then executive chef at the charming and popular restaurant Tartine in the West Village. He began giving cooking classes on Monday nights at Tartine and, after several years, opened his own cooking  school.
Ivan Beacco – was raised in the coastal northern Italian city of Trieste, a stone's throw from Venice. There, he was exposed to a style of cooking that fuses classic Italian cooking with "Mittel Europa" traditions. Just out of culinary school, he began working in classic Italian restaurants on the Italian Riviera and the Dolomiti mountains. His restaurant career has taken him to Vienna, Brussels, and finally New York. He has worked as the executive chef at Borgo Antico in Greenwich Village, and at Acqua in the Financial District. In 2013, he began collaborating with Wellness in the School program and chef Bill Telepan to improve the food served in public schools. In 2012 and in 2014 he was included in the annual publication of Best Chefs America for the New York Metropolitan Area.
David Goldman – grew up in New Jersey, surrounded by a family of chefs and bakers. After working in local restaurants through school and college, he traveled the world cooking food. He learned to make salsa in South America, curry in the Caribbean, and falafal in the Middle East. After executive chef stints at Moose Hill Orchard and the Oceanic Hotel, he moved to New York in 2012 to explore the burgeoning mobile food scene. These days, in addition to teaching, David runs his own catering company and consults for food start-ups.
Rati Lohtia – grew up in India with a cooking teacher for a mother, and developed a fervent passion for food at an early age. She has traveled the world, absorbing ideas and translating them into new and exciting dishes. Her repertoire includes original recipes that capture the tremendous offerings from all over India and blend them seamlessly with dishes popular in the West. From the deceivingly simple Samosas to the seemingly elaborate but effortless Chicken Tikka Masala, her recipes are delicious and guaranteed to work. Her goal as an instructor is to demystify Indian cooking, offer simple tricks that anyone can learn, and ensure that Indian food is enjoyable for all. She has spent over a decade parlaying her passion into teaching at the Institute of Culinary Education and at Miette. She recently conducted an Indian Street Food Workshop at the James Beard House, and was featured in the 2011 Cooking Channel TV campaign.
James Stahl is a sommelier, connoisseur, and Dining Room Manager of The Old Inn on the Green in Western Massachusetts. He began a love for food and wine as a bartender at The Old Chatham Sheep Herding Company Inn. He then studied at Windows on the World Wine School and The Sommelier Society of America in New York City followed by The Wine and Spirit Education Trust. James worked closely under Chefs Melissa Kelly, Old Chatham Sheep Herding Company Inn, Danny Smith, John Andrews, and Peter Platt, Old Inn on the Green. He has been on restaurant teams that have exhibited their skills before the James Beard Foundation, shared his expertise with Global Traveler Magazine, and continues his studies to achieve the Court of Master Sommelier Certification and Master of Wine.
Elevate your cooking skills with our expert led cooking classes in NYC today! Click here for our class schedule.