Hello, friends! It's Week 15 of Cooking at Home with Chef Paul and Miette Culinary Studio
Just in time for the 4th of July weekend, Chef Paul is sharing his recipe for a mighty (fine) marinade that can be slathered over fish, poultry, or beef. It's full of flavor, with ginger, garlic, lemon, sesame oil, and soy sauce.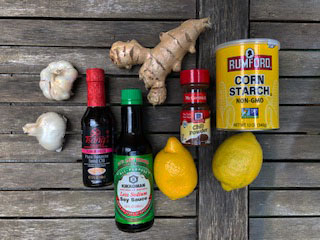 The Mighty Marinade
Ingredients

3/4 cup fresh ginger, peeled and cut into large cubes
1/2 cup garlic, peeled
1/2 cup soy sauce 
1/2 cup sesame oil
1/4 cup vegetable oil (like canola, or grapeseed)
1/2 cup lemon juice
1/2 tbs chili powder
1 tbs corn starch
Preparation
Put all the ingredients in a blender and process till smooth. 
To prepare: In a dish or container, put the meat, fish, or beef and cover completely with the marinade. Put plastic film tightly over the dish and leave in the fridge for a minimum of 4 hours (it's fine to leave it in the fridge overnight).
Notes
Chef Paul prepared 7 oz salmon steaks using this marinade:
Preheat the oven to 400 degrees.
Remove salmon from covered dish that's been in the fridge for 4 + hours and put on a baking tray or on the grill.  Cook for 12 -15 minutes (this will be well done). Serve with cucumber salad and roasted potatoes.