Hello everyone! It's Week 12 of Cooking at Home with Chef Paul and Miette Culinary Studio
This past week we did not want to cook anything hot, or eat anything hot. In fact, we did not want to turn on the stove at all, so this cold and fresh gazpacho was perfect.  When he prepared this at the restaurant, Chef Paul served it with a dollop of guacamole in the middle and blue corn chips on the side. Nice!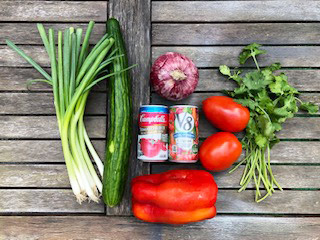 Gazpacho
Serves 6-8 
Ingredients
1 red onion, peeled and cut in quarters
1 plum tomato, cut in quarters
1 red pepper, seeded and cut in 8 pieces
1/2 cucumber, peeled, seeded, and cut in 8 pieces. (To get the seeds out, first cut the cucumber in half and then lengthwise and scoop the seeds out with a spoon. We used the long, skinny English cucumber for this recipe, but you can use the normal, rounder cucumber as well. In that case, use the whole cucumber)
4 celery stalks, cut in four pieces
4 scallions, cut thin, using both the white and the green parts
1/2 bunch cilantro, chopped thin
4 cups tomato juice
2 cups V8 juice
1 tbs red wine vinegar
2 tbs olive oil
8 drops tabasco (or any hot sauce)
salt and pepper to taste
Preparation
In a blender (or Vitamix, or food processor) add red onion, tomato, red pepper, cucumber, and celery and pulse slowly till chopped to the desired size. If you go very small, be careful not to purée.
In a separate bowl, stir together the scallions, cilantro, tomato juice, V8 juice, vinegar, tabasco (or hot sauce), olive oil, salt and pepper.
Add the vegetables to the liquid, and stir. Adjust your salt and pepper to taste.
Serve cold.
Notes
In our house, cilantro is the line in the sand. Some of us will eat it, some of us absolutely will not. If you live in one of those households, you can divide the recipe in half and make one with cilantro and one without.
This dish will keep in the fridge for 4-5 days. After that, the vegetables will start to get mushy.