Greetings, friends! It's Week 7 of Cooking at Home with Chef Paul and Miette Culinary Studio 
Kale is a green we really want to love. It's got calcium, iron, potassium, copper, magnesium, fiber, and a ton of Vitamins A , C, and K, but it's also a tad chewy. This simple recipe has changed many people's relationship to kale. We hope it changes yours, too.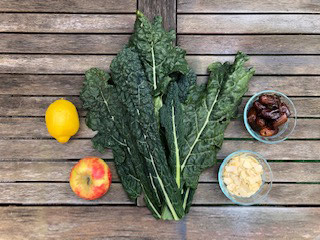 Wilted Kale, Apple, Date, and Almond Salad
Wilted Kale, Almond, and Date Salad
Serves:
Four
Ingredients:
3 tbs fresh lemon juice
2 tbs nice olive oil
1/4 tsp kosher salt
1 bunch washed dinosaur kale, ribs removed and leaves thinly sliced
1/4 cup pitted dates, cut into thin slivers
1 Honeycrisp apple, cut into matchsticks
1/4 cup slivered almonds, toasted (toasting is optional)
1 oz pecorino cheese, finely grated (optional)
Salt and pepper
Preparation:
Whisk together the lemon juice, olive oil, and salt in a large bowl.
Add the kale to the bowl and gently massage with your hands (yes, get up close and personal) till the kale is wilted (around 2 minutes). The idea is to break down the fibers, but not to the point where the kale is mushy.
Let stand for 10 minutes.
Add the slivered dates, apple, almonds, and cheese (if using) to the kale.
Season with salt and pepper to taste and toss well.
Notes
To separate the leafy bits from the stem, fold the kale along the stem and hold the base while ripping the leaves off.
If you are preparing this in advance, you can put the kale, lemon, olive oil and salt into a zip lock bag. Shake it up so the kale is coated and put in the fridge for a few hours. Then remove and add the other ingredients. The acid in the dressing will wilt the leaves.
Chef Paul says this salad, unlike most dressed salads, is very good the next day. You can store it in a zip lock bag, or in a tightly covered plastic container.
Any questions about the recipes can be emailed to Chef Paul at info@mietteculinarystudio.com.