Greetings, Miette Cooking-at-Home Community
Chef Paul has been drawn to dishes that he can put together in the afternoon and serve at dinnertime. Here at casa Chef Paul, we've been eating a lot of couscous. This dish can be served with meat but it is plenty filling for vegetarians.
Stay well, and stay sane!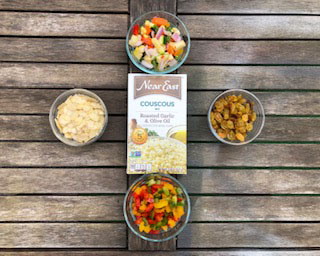 Vegetable Couscous
Serves:
Four
Ingredients:
1 box of couscous (we use Near East. For this recipe we are using the plain one, not the one with the added flavorings)
¾ cup vegetable broth (can be made using one vegetable bouillon cube, or a store-bought broth)
2 tbs olive oil
1 small red onion finely chopped
1 red pepper finely chopped
1 zucchini finely chopped
1 plum tomato finely chopped
4 scallions finely chopped
¼ cup golden raisins
¼ cup slivered almonds
Preparation:
Put olive oil, red onion, red pepper, zucchini, tomato, scallions, raisins, and almonds in a saucepan.
Add vegetable broth and bring to a boil for around half a minute, then set aside.
Place couscous in a deep bowl and pour in the vegetables and broth (you don't have to stir it).
Cover the bowl with saran wrap and let it rest (at least 5 minutes. We usually make it in the afternoon and leave it on the counter, covered, for hours).
Discard the saran wrap and fluff up the couscous with a fork.
Add salt and pepper to taste.
Note: Prechopped vegetables that you find in the supermarket are fine. Chef Paul likes the prechopped vegetables from Citarella, which often includes corn and green beans. Whatever is in there will work. No need to chop the corn, but if you've got green beans, make sure they are diced up. The more vegetables you have, the better it is.
Any questions about the recipes can be emailed to Chef Paul at info@mietteculinarystudio.com.