Hello, friends!  We are cooking at home with Miette, week 5. 
This week Chef Paul has made a zingy, savory, Sicilian-style eggplant dish called Caponata. It can be served on its own, or as a side vegetable, hot or cold. It tastes great the first day, and even better the second. It goes great with any roasted meat, and Chef Paul has even served it as a side dish (cold) with scrambled eggs.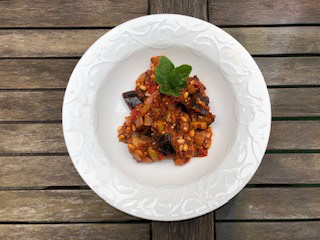 Caponata
Serves:
Four
Ingredients:
1 large eggplant, diced in 1/2 inch cubes
1/4 cup olive oil (to be divided)
1 onion, chopped
1 cup celery, chopped
1 garlic clove, chopped
1 14.5 oz can chopped tomatoes
1 tbs tomato paste
10-12 pitted green olives, chopped
2 tbs capers, drained
1 tsp oregano
2 tbs red wine vinegar
2 tsp sugar
1 tsp salt
1 tsp pepper
2 tbs pine nuts (optional)
1/3 cup basil, chopped (optional)
Preparation:
Heat 2 tbs olive oil in a large pot.
Add chopped celery and cook for 4 minutes.
Add onions and garlic and cook till soft, stirring ocassionally, around 5 minutes or till onions are translucent. Set aside in a bowl.
In the same large pot, heat the remaining oil and add the eggplant. Cook for 5-7 minutes, stirring often till soft.
Add the celery/onion/garlic, tomatoes, tomato paste, olives, capers, and oregano to the pot. 
Bring to a boil and then lower the heat and simmer for around 15 minutes.
Add vinegar, sugar, salt, pepper, basil, and pine nuts. Stir together and serve.
Any questions about the recipes can be emailed to Chef Paul at info@mietteculinarystudio.com.