Greetings, friends! We're cooking loads of Brussels sprouts this month at home with Chef Paul and Miette Culinary Studio. 
This is high season for Brussels sprouts, and Chef Paul has a favorite recipe to share with you. It's deceptively easy, but has a bit of a twist. You'll need two kinds of salt for this dish, kosher and sea salt. And a lemon. You won't believe how tasty this is!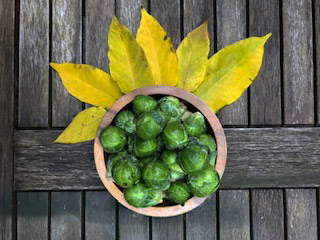 Two-Salt Brussels Sprouts
Serves 4
Ingredients
1lb Brussels sprouts
1 tbs olive or vegetable oil
1 tsp kosher salt
1 tsp black pepper
1 organic lemon, zested
1 tsp sea salt
Preparation
Preheat oven to 400 degrees
Cut off the brown ends of the Brussels sprouts and remove any tough outer leaves
Cut the sprouts lengthwise
In a large mixing bowl (or directly on a sheet pan) toss the sprouts with the oil and season with the kosher salt and pepper
(If you tossed your sprouts in a mixing bowl, lay them out on a sheet pan)
Place in the oven and roast for 20 minutes
Remove from the oven and shake the sheet pan to rotate the sprouts
Roast for another 20 minutes until brown and any loose leaves are crisp
Sprinkle with the sea salt and lemon zest
Serve hot
Note
Chef Paul prefers to use organic lemons when making this dish because the zest of the lemon would potentially contain more pesticides if conventionally grown.