Greetings, Miette Cooking-at-Home Community
We're still seeing a lot of sweet corn at the Greenmarket, so Chef Paul took advantage of this bounty with an end-of-season corn chowder. We have frozen a big batch, and look forward to a little bit of summer when the skies are dark at 5pm and it's cold outside.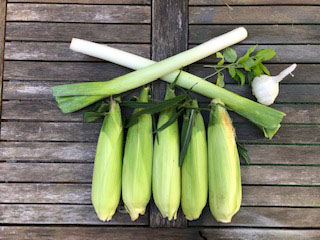 Corn Chowder
Serves 4-6
Ingredients
6 large ears of corn kernels (stand your uncooked corn in a big bowl or on a clean tea towel and cut down the sides of the cob)
2 tbs olive oil
2 leeks (washed, white part only) in 1/2 inch slices
2 garlic cloves, peeled and chopped
2 tsp Kosher salt
1 pinch cayenne pepper or 2 pinches black pepper
5 cups water or vegetable stock
Chopped basil for garnish
Balsamic glaze to finish (optional)
Preparation
In a large pot heat 2 tbs olive oil. Add the sliced leeks. Cook over medium heat while stirring till soft (about 5 minutes)
Add the garlic, corn kernels, salt, cayenne (or black pepper), water (or vegetable stock).
Bring to a boil, cover, and let simmer for 20 minutes. Stir occasionally.
To serve, place in bowls and dot with a few drops of balsamic glaze. Top with chopped basil.
Notes
To make this into a creamy corn soup, you can use an immersion blender to purée,  or you can put it in a Vitamix or any blender. You can also blend half, and add it back to the chunkier chowder for a smoother soup with some heft. 
It freezes very well!