Hello, dear friends! It's Week 20 of Cooking at Home with Chef Paul and Miette Culinary Studio.
Chef Paul is going to be exploring the food scene upstate for the month of August, so we are going to cap these 20 weeks of cooking at home together with a fitting send off: dessert. Chef Paul makes a mean chocolate mousse, he feels like it's part of his Belgian DNA. This is a recipe that you can whip up quickly, and it's great to make with kids.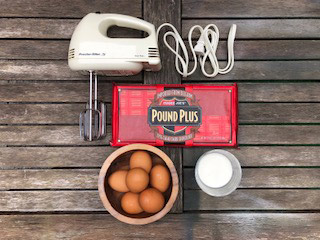 Classic Chocolate Mousse
Serves 4
Ingredients
12 oz. semisweet chocolate
A dash of water
1 egg yolk
4 egg whites
pinch of salt
1 cup heavy cream
Preparation
Melt the chocolate with a dash of water in a double boiler over a low heat (a double boiler is just a heat source that is separate from the chocolate, so you can boil water in a saucepan and put your chocolate and a dash of water in a metal bowl over the steam.
Turn off the heat when the chocolate has melted.
Separate the eggs, conserving one egg yolk.
Add the egg yolk to the melted chocolate and whisk together.
In a medium sized bowl, add a pinch of salt to the egg whites and beat until peaks form. You can use a whisk or a hand-held beater.
Take a small amount of the beaten egg white and add it to the chocolate. Fold the egg white into the chocolate gently with a spatula.
Add the chocolate into the bowl with the rest of the egg whites and continue to fold them together with a spatula. Be sure to scoop gently from the bottom of the bowl upward.
Whip the heavy cream with a whisk or a hand-held beater till firm and gently fold into the chocolate mixture.
Divide the mousse into ramekins or small bowls and refrigerate for at least 2 hours before serving.