Hello, dear friends!  It's Week 17 of Cooking at Home with Chef Paul and Miette Culinary Studio
Chef Paul has been teaching this knock-your-socks-off vodka sauce since he started Miette in 2001. He loves to watch everyone's face as he pours a cup (yes, a cup) of vodka into the saucepan. No measly tablespoons of the good stuff here!  In fact, the alcohol is absorbed when it cooks, but it gives a unique flavor to the sauce, and is nicely complemented by heavy cream and a dash of red pepper flakes. This recipe freezes very well.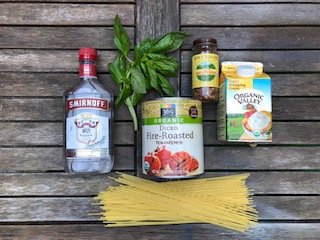 Pasta with Vodka Sauce
Serves 4
Ingredients
4 tbs olive oil
4 garlic cloves, peeled and chopped
1 28 oz can of diced tomatoes (plain or fire roasted)
15 basil leaves, washed 
1 tsp sugar
3/4 tsp salt
3/4 tsp red pepper flakes
1 cup heavy cream
1 cup vodka (80 proof)
Preparation
In a 4 quart saucepan, heat olive oil over medium heat and sauté the garlic for 2 minutes.
Stir in the tomatoes with their juice and simmer gently, uncovered, for 10 minutes.
Add the basil, sugar, salt, red pepper flakes, cream, and vodka and simmer for another 10 minutes.
Cut the heat and transfer the sauce to a blender or Vitamix and blend till smooth.
Serve with the pasta of your choice. 
Note:
Chef Paul always doubles this recipe so that he can freeze the extra sauce.