Hello, friends! It's Week 16 of Cooking at Home with Chef Paul and Miette Culinary Studio 
This week's recipe is a refreshing goat cheese dip that plays equally well with crackers, crostini, and grilled burgers. Honestly, you could just spread this stuff in a sliced baguette and eat it like a sandwich, it's that good.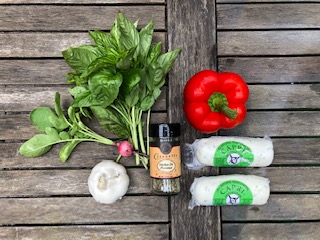 Goat Cheese Dip
 Ingredients
2 5oz logs of plain fresh goat cheese (you can also just use one 8oz log)
1/4 cup olive oil
6 large basil leaves, chopped
1 big garlic clove, peeled and chopped
1/2 tsp herbes de Provence
1/2 tsp kosher salt
1/8 tsp ground black pepper
Preparation
In a large bowl, bring goat cheese to room temperature (important!)
Add olive oil, basil, garlic, herbes de Provence, salt and pepper.
Mix all ingredients together with a fork (yes, there's a reason you use a fork) till they are the consistency of a paste.
Notes
Chef Paul often serves this dip with a roasted red pepper.  
To roast the pepper, preheat oven to 400 degrees. Rub the pepper with olive oil and put on a tray in the oven for 15 minutes. Turn pepper and cook for another 15 minutes. Turn pepper again and cook for another 15 minutes. Total 45 minutes cooking time. Cool pepper, cut in thirds or quarters, take the seeds out and peel the skin off. Serve alongside goat cheese crostini, with a grilled burger, or throw it into that sandwich I mentioned. You can garnish your crostini with raw radish and basil leaves.
.