Hello, everyone! It's Week 18 of Cooking at Home with Chef Paul and Miette Culinary Studio.   
Chef Paul can't resist those glorious carrots at the Greenmarket (even when reminded of the sheer amount of real estate they take up in the refrigerator), and he's busy trying out new recipes for them. This nutrient-rich recipe for a carrot cashew miso spread can be served with meat or chicken, slathered on a toasted baguette with roasted vegetables, or as an elegant alternative to hummus when entertaining.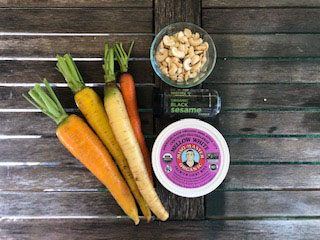 Carrot Cashew Miso Spread
Carrot Cashew Miso Spread
Ingredients
2 large carrots, peeled and chopped into 1/2 inch pieces
3/4 cup raw cashews
1 cup vegetable stock (or water)
2 tbs light miso paste
White or black sesame seeds (optional)
Preparation
Place carrots in a pot with the cashews and the vegetable stock.
Turn heat to high and bring to a boil.
Reduce heat to medium and cook till the carrots are cooked through (around 10 minutes).
With a slotted spoon, scoop carrots and cashews into a food processor, reserving 1/4 cup of the cooking liquid in a separate bowl.
Add the miso to the reserved cooking liquid and stir till dissolved.
Add this to the carrots and cashews and process till smooth.
When ready to serve, sprinkle with white or black sesame seeds (optional).
Notes
You can add some lemon juice or lemon zest to the spread if you like a note of citrus. 
This spread can be made in advance and stored in an airtight container in the refrigerator for up to 4 days