Hello, everyone! It's Week 14 of Cooking at Home with Chef Paul and Miette Culinary Studio
 
This week Chef Paul found masses of glorious, multicolored carrots at the Greenmarket (this is the moment when they are at their best) and has created a dynamite cold marinated carrot salad that sings with freshness, density, and snap. Serve with any grilled meat or fish.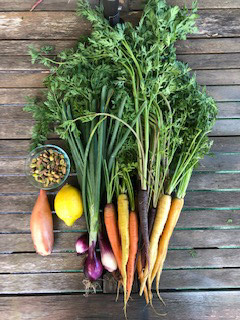 Marinated Carrot Salad
Serves 4
Ingredients
1 lb carrots, sliced in 1 inch segments on a steep diagonal
1/4 cup olive oil
2 tbs red wine vinegar
1 garlic clove, minced
1/2 lemon, juiced
1 tbs minced shallot (or sweet onion)
1 tbs chopped parsley
1 tsp Dijon mustard
1 tsp sugar
Salt and pepper to taste
Small handful of raw or roasted pistachio nuts (optional)
Preparation
Bring a medium saucepan of water to a boil. Add a little salt to the water, then add the carrots and cook till they are just tender (not soft), about 3 minutes. Drain and set aside.
In a large bowl, whisk the olive oil with the vinegar, garlic, lemon juice, shallot, parsley, mustard, and sugar. Add a pinch of salt and pepper.
Add the carrots and toss to coat.
Refrigerate for at least 4 hours, or overnight. 
Serve cold or at room temperature. Just before serving, sprinkle with pistachios.
Notes
Be careful not to overcook the carrots. When cooked al dente they have a meaty density that is great the first day, and fantastic the second day