Hello, friends! It's Week 11 of Cooking at Home with Chef Paul and 

Miette

 Culinary Studio
We are beyond tired of bottled salad dressing, so this week we're passing along Chef Paul's dynamite recipe for Caesar Salad. It's all about the dressing, folks. This stuff makes your salad sit up and thank you. We've added roasted peaches to this recipe, which Chef Paul thinks will  keep you on your toes (they are in season right now, and super tasty). We can't think of anything that isn't improved by a roasted peach!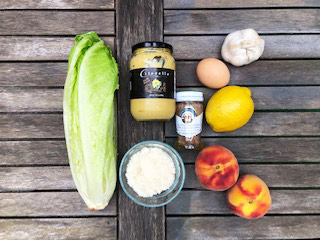 Caesar Salad
Serves 4-6 
Ingredients
1 egg yolk
4 cloves garlic, peeled
6 anchovy fillets
2 tbs Dijon mustard
Juice of 1/2 lemon
1/8 cup red wine vinegar
3 tbs grated parmesan cheese (plus a bit extra for garnishing)
1/4 cup water
1/2 cup canola oil
1/2 cup olive oil
2 heads romaine lettuce, washed, cut in chunks
Optional:
5 drops tabasco sauce
5 drops Worcestershire sauce
Peaches:
2 peaches, cut in half and depitted
2 tbs olive oil
Preparation
In a food processor, place egg yolk, garlic, anchovies, mustard, lemon juice, vinegar, and parmesan cheese. 
Process slowly, adding water (slowly), then the canola oil (slowly), and the olive oil (slowly). The dressing should be the consistency of a thin paste.
If you want to include tabasco or Worcestershire sauce, add these in after the oil and process to mix.
Salt and pepper to taste.
To dress the salad, use 1/4 cup dressing for 2 heads of romaine. Place the dressing in the bottom of the bowl and add romaine, then toss.  For larger quantities, add 1/4 cup of dressing for every 2 heads of romaine lettuce. Garnish with parmesan.
For the peaches:
Preheat oven to 400 degrees.
Heat a pan with 2 tbs olive oil. 
Add the peaches, cut side down.
Sear for 2 minutes over a low flame.
Turn the peaches, and put in the oven for 5 minutes.
Serve on the side.
Notes
Store the leftover dressing in an airtight container in the fridge. It will stay good for a week.
This dressing can be used to make a fab chicken salad. Just add to chopped chicken (roasted, grilled, boiled), and throw in some fresh parsley