Hello, everyone! It's Week 10 of Cooking at Home with Chef Paul and Miette Culinary Studio
Chef Paul has been teaching these crab cakes since the cooking school opened in 2001. It is one of his most requested recipes. His students can't believe how easy they are to make, and how delicious they are.  We serve them with a big salad.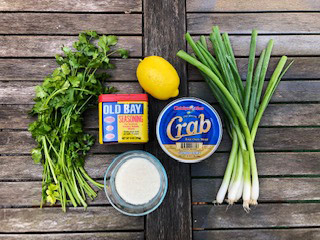 Crab Cakes
Serves:
Four – Six
Ingredients:
1 lb canned crabmeat, jumbo lump (this is important!)
4 scallions, green part only, minced
1 tbs chopped cilantro
1 1/2 tsps Old Bay seasoning
4 tbs breadcrumbs (plain)
1/4 cup mayonnaise
1/4 cup all-purpose flour
1 large egg, beaten
4 tbs olive or vegetable oil, for frying
1 lemon, cut in 4 or 6 wedges (depending on how many crab cakes you are making) for serving
Preparation:
Preheat oven to 400 degrees.
In a large bowl, gently mix crabmeat, scallions, cilantro, Old Bay seasoning, breadcrumbs, flour, and mayonnaise. The idea is not to break the lumps of crabmeat into smaller pieces. You want them to stay pretty big, which is why you use jumbo lump crabmeat.
Add the beaten egg and mix carefully (same reason, try to keep the crabmeat intact).
Divide crabmeat mixture into either 4 or 6 disk-shaped patties.
Heat the vegetable or olive oil in a frying pan.
Brown the crab cakes over a low flame, for 2 minutes on each side.
Bake in oven for 5-8 minutes (if you are using a frying pan that can go in the oven, just stick the entire pan in. Otherwise put patties on a tray).
Serve hot, with lemon wedges on the side.