Hello, friends! It's Week 9 of Cooking at Home with Chef Paul and Miette Culinary Studio
This week Chef Paul taste-tested his way through this amazing carrot soup recipe, and it is a winner. Folks, this thing is liquid ambrosia. I wish I could trade it on the stock exchange. It's great with just about anything, but we had it with a fresh baguette and a big salad.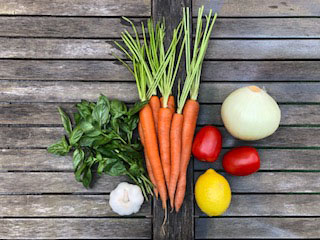 Carrot and Lemon Soup
Serves:
Six
Ingredients:
4 tbs olive oil
1 tsp herbes de provence
4 garlic cloves, peeled and chopped
1 medium sized onion, peeled and sliced
1 bunch carrots, peeled and roughly chopped
2 medium russet potatoes, peeled and cubed
1/2 cup basil  (leaves only), washed
3 plum tomatoes, cubed
4 vegetable bouillon cubes (we use Knorr)
Juice of 1 lemon
1 5.4 oz can unsweetened coconut cream
Salt and pepper to taste
Preparation:
In a large cooking pot (we used a 4-quart pot), heat the olive oil. 
Add the chopped garlic, sliced onions, and herbes de provence.
Stir for 3-4 minutes on a low flame until onions are translucent.
Add carrots, potatoes, tomatoes, basil leaves, and bouillon cubes and cover with around 7-8 cups of water (7 cups makes a thicker soup).
Bring to a boil then lower to simmer, covered, for 25 minutes.
Transfer to a blender or Vitamix.
Add lemon juice and coconut cream and blend till smooth (this may need to be done in several batches).
Salt and pepper to taste.
Serve hot or cold.
Any questions about the recipes can be emailed to Chef Paul at info@mietteculinarystudio.com.