Hello, friends! It's Week 6 of cooking at home with Miette. 
Chef Paul used to make this Spring risotto with asparagus and peas when he was the chef at Tartine, in the West Village. Risotto can be configured in a number of ways, but this recipe blends the blanched asparagus and the peas, then folds that emulsion into the rice. It makes for a super creamy and beautifully green dish.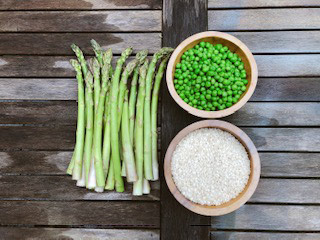 Asparagus and Green Pea Risotto
Asparagus and Green Pea Risotto
Serves:
Six
Ingredients:
2 tbs olive oil
1/2 cup finely chopped shallots
2 cups Arborio rice
6 1/2 cups broth (either vegetable or chicken), 1/4 cup set aside
1 bunch asparagus spears, discard the tough bottom inch or so and chop roughly
1 small packet of frozen peas (defrosted)
2 tbs mascarpone cheese
1/2 cup freshly grated parmesan cheese
salt and pepper to taste
Preparation:
Bring a saucepan of water to a boil and add the asparagus and the peas. Cook for 2 minutes, drain, and return  to the pot and cover with cold water.  After a few minutes, drain again and put into a blender. 
Add mascarpone and puree with the asparagus and the peas. Set aside.
Heat the oil  in a heavy saucepan. 
Add the shallots and stir for 2-3 minutes, till soft.
Add the rice and stir for a minute to completely coat with oil..
Gradually add the broth, 1/2 cup at a time, stirring gently (stirring gently releases the starch).
Wait till the broth has absorbed before adding the next 1/2 cup. Make sure that the rice that ends up on the side of the saucepan gets scraped back into the pan, or bits of rice will not cook completely. 
When you have finished stirring in the broth, add the puree, the reserved 1/4 cup of broth, and the parmesan cheese. Cook, stirring, for 5 minutes or till liquid is absorbed to your desired consistency. 
Season with salt and pepper to taste.
Notes:
Risotto takes between 20 to 25 minutes starting from the time you begin adding the broth. One mistake people make is to cook it too quickly, which results in the starch not having time to release. The consistency will not be creamy, and the rice will have a gritty texture. 
To make this dish lighter, you can leave out the mascarpone.
If all you have at home is onions, you can use onions instead of shallots. Chop them fine, and away you go.
This recipe can be veganized by using a vegetable broth and leaving out the mascarpone and parmesan. Instead of parmesan, you can add 2 tablespoons of nutritional yeast to the asparagus and pea emulsion.
Any questions about the recipes can be emailed to Chef Paul at info@mietteculinarystudio.com.