Greetings, Miette Cooking-at-Home Community
We're finding lots of fresh produce at the grocery store (unlike certain household items that will remain unnamed), so we are sharing this easy ratatouille recipe that cooks up like a dream and can be stored in the fridge in an airtight container for a week.
Stay well, and stay sane!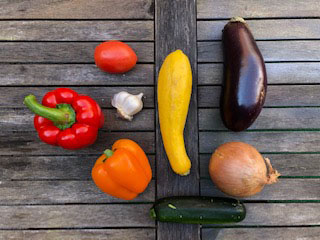 Keep practicing social distancing
Chef Paul's Ratatouille
Ingredients:
1 medium zucchini (either green or yellow)
1 red pepper
1 orange pepper
1 small eggplant
2 cloves garlic
1 medium onion
4 plum tomatoes, chopped  (or 1 15 oz can diced tomatoes)
3 tbs olive oil
6-8 basil leaves, chopped (optional)
Preparation:
Cut the zucchini, red pepper, and eggplant in medium sized cubes
Peel and chop the garlic
Peel and cut the onions in cubes
Cut the tomatoes in cubes, or open can of tomatoes – reserve for the end
Put olive oil to heat in a pan or pot
Add garlic and onions and stir on a medium flame till the onions are translucent (around 4 to 5 minutes)
Add zucchini, peppers, and eggplant. Stir for 5 minutes.
Add chopped tomatoes (or the can of diced tomatoes), chopped basil, salt and pepper to taste.
Cook for a few minutes over low flame
We have been eating this over rice, and the meat eaters can serve this as a side dish with chicken cutlets, sausages, meatballs, whatever you have handy.