Greetings, Miette Cooking-at-Home Community
This week Chef Paul is making kale (or spinach) pesto, a delicious nutritional powerhouse, in addition to being super easy to freeze and use over the course of a month. We love having this to hand when making another meal feels like pulling teeth. As it does for us all at times, even Chef Paul.
Stay well, and stay sane!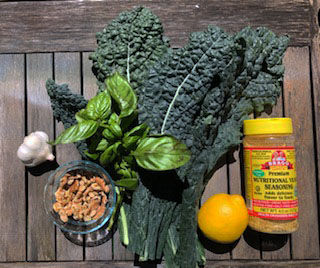 Kale or Spinach Pesto
Serves:
Four
Ingredients:
1 bunch kale, washed, with ribs removed, and roughly chopped (to remove the ribs, fold the kale along the rib and tear the rib off from the bottom. Or just cut the leaf away)
(if substituting spinach for kale: 1 bunch spinach, washed and chopped)
1/4 cup basil, washed
1/4 cup walnuts 
1/4 cup nutritional yeast (or substitute 2-3 tbs grated parmesan cheese)
3/4 cup olive oil
3 cloves garlic
1 tsp salt
1/2 tsp pepper
1/4 tsp red pepper flakes (optional)
Zest of 1 lemon
Preparation:
Blanch the kale or spinach by bringing a pot of water to a boil, adding some salt, and dropping the kale (or spinach) into the water for about 30 seconds. Remove immediately with a slotted spoon (or drain over a colander) and place in a bowl with ice cold water.  Drain when cold and squeeze out (with your hands is fine) as much water as possible.
Place all the ingredients in a food processor or Vitamix and blend until it's reached the desired consistency. If you would like a looser pesto, add a little water or a little more oil. 
Notes:
We serve this over pasta, with cherry tomatoes (the more, the merrier) that have been lightly coated with olive oil and roasted in the oven on a baking sheet at 375 degrees till they are soft.  

We use nutritional yeast to make this a vegan-friendly recipe, but grated parmesan will work perfectly well

.
Any questions about the recipes can be emailed to Chef Paul at info@mietteculinarystudio.com.