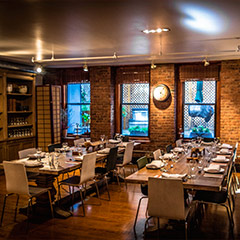 Miette means "little crumb" in French. The name was inspired by the restaurant where the cooking classes began, Tartine ("slice of bread") in the West Village. Miette opened in 2001.
Paul Vandewoude – Head Chef and Owner has been a professional chef for 35 years. He was born and educated in Belgium and started his cooking career at the tender age of 13 by becoming an apprentice to an established chef in Belgium.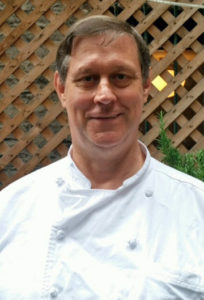 He eventually received his degree in culinary arts from the Durbuy Cooking School in Durbuy, Belgium. After his military service (as chef on a battleship that traveled throughout the Middle East: now that's cooking in small quarters!) he worked in several top restaurants in his native country. He came to New York to assist with the opening of a Belgian restaurant, and stayed on to become executive chef at the original Le Zinc Restaurant in Tribeca, then executive chef at the charming and popular restaurant Tartine in the West Village. He began giving cooking classes on Monday nights at Tartine and, after several years, opened his own cooking  school.
Theo Vandewoude – has been a sous-chef and teacher at Miette since 2014. He began his cooking career by watching his father in the kitchen, and is now teaching full time.
Brieanna Hayes has been a sous-chef and teacher at Miette since 2015.
Alexandra Leaf is a New York-based culinary historian and author who has worked in the chocolate industry for over 20 years. She was the director of The Big Chocolate Show in 2016 and 2017, and is a Grand Jury Judge for the International Chocolate Awards. She is a founding member of the Manhattan Chocolate Society and is active in the Fine Chocolate Industry Association (FCIA), and the Fine Chocolate Cacao Institute (FCCI). She is an adjunct faculty member at Citytech (CUNY) in the Department of Hospitality. She is a certified tour guide in NYC, specializing in food and chocolate tours.
Mary John Baumann is an accredited wine professional. Her passion for wine began while living and traveling in Europe in her twenties.  She received a WSET (Wine & Spirit Education Trust) Advanced certificate with Merit in 2006, and her WSET Diploma in 2009. She has taught levels 1,2,3, and Diploma at the International Wine Center in New York since 2015. She has served on the Tasting Panel for Wine and Spirits Magazine and is a member of the Wine Media Guild in New York, as well as the Chaine des Rotisseurs New York Chapter.
James Stahl is a sommelier and Dining Room Manager of The Old Inn on the Green in Western Massachusetts. He began a love for food and wine as a bartender at The Old Chatham Sheep Herding Company Inn. He then studied at Windows on the World Wine School and The Sommelier Society of America in New York City followed by The Wine and Spirit Education Trust.